zpět na výpis aktualit
21. 01. 2015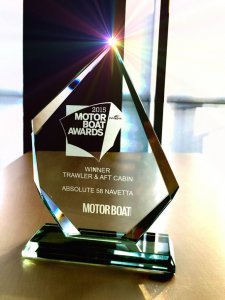 During the "London Boat Show" a prestigious and coveted British award is assigned to the most innovative and best achieved recent design.
The Absolute team is proud and happy to announce its attainment of this award for the new astonishing and amazing "Absolute Navetta 58" on January 13TH 2015!!

This accolade comes very early in the lifecycle of this new project: indeed, the official debut of Navetta 58 took place at the recent Cannes Yachting Festival in September.

Despite the young age of this new segment of boats, Absolute has gained a great welcome worldwide, as witnessed by many first pages coverage by the specialized nautical magazines.
At the upcoming Düsseldorf boat show, another member of the new Navetta family will be announced, i.e. the "Absolute Navetta 50".
The era of "Absolute Navetta" has begun…